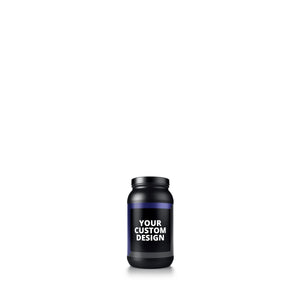 ZMA capsules are a supplement made up of a blend of Zinc Monomethionine Aspartate (30mg), Magnesium Aspartate (450mg), and Vitamin B6 (10.5mg). Read the full product description for more information.
Contents
What is ZMA?
ZMA is basically a supplement comprised of a selection of zinc, magnesium, and vitamin B6. It has been specially formulated using bioavailable ingredients to help athletes and physically active individuals from losing these essential nutrients as they exercise. These ingredients are all essential for a number of important biological processes within the human body, yet despite this, more than 40% of all adults are deficient in at least one of these ingredients. On top of that, as mentioned, frequent exercise can result in a loss of these nutrients, so replacing them is absolutely vital.
How does it work?
Zinc, Magnesium and vitamin B6 all play a key role in a number of internal processes within the human body, especially protein synthesis. As we exercise and workout, these nutrients are lost, either via basic metabolic processes, or via perspiration as we sweat. Put simply, ZMA supplements are designed specifically to help replace these lost nutrients. Studies however, have found that increased ZMA ingestion could result in increased athletic performance, which in turn could result in a more aesthetic looking physique. As the nutrients are so vital for so many biological processes within the human body, ensuring we get enough is absolutely essential.
What are the main benefits of ZMA?
There are a number of benefits associated with ZMA, which are related not only to our health and well-being, but also to the way we perform athletically. Here's a look at some of the most prominent benefits, followed closely by a quick summary:
Improved immune system
As mentioned, ZMA plays a vital role in countless internal processes, including in the functioning of the immune system. Studies however, have found that ZMA supplementation can help prevent oxidative stress on the body and can help to boost immunity. The main ingredient responsible for this is the Zinc, though the others are still hugely beneficial. The stronger your immune system, the fitter and healthier you will be as a result.
Increased testosterone levels
Studies have also revealed that ZMA supplementation could help to greatly increase a person's natural testosterone levels, which in turn, will provide countless other benefits. Testosterone is essential for fertility and libido, as well as for muscle growth, strength, athletic ability, and recovery. By increasing your ZMA consumption, you can therefore help increase natural testosterone production, which will provide numerous benefits.
Fat loss
Another great reason to supplement with ZMA is the fact that it assists with fat loss. To begin with, the ingredients all play a key role in a person's basic metabolic function, which basically means that the supplement will help boost the metabolism. Not only that, but ZMA supplements also help promote healthy thyroid function, which in turn means that the more active the thyroid is, the more efficient their metabolisms will become as a result.
More energy
Obviously if your metabolism is more efficient than usual, you will be burn more calories, and convert them into energy much easier. This means that ZMA supplements can help to increase your energy levels, which in turn will make workouts and exercise more efficient.
Other benefits include:
Fat loss
Increased energy levels
Strong immune system
Reduced risk of ZMA deficiency
Improved athletic performance
Increased muscle mass
Increased libido
Increased post-workout recovery
Better quality of sleep
Increased strength levels
And more...
How and when it should be taken
Health Canada Recommended Dose (capsules): Adults: 3 Capsule(s) 1 time(s) per day. Take a few hours before or after taking other medications or natural health products. Take with food. Store in airtight container, protected from light.
ZMA VS Zinc and Magnesium
So, you're probably wondering why people don't just simply purchase a zinc supplement and a magnesium supplement and use them individually. ZMA uptakes have been found to be much quicker than when supplementing individually, plus on top of that, ZMA supplements have been found to yield much more impressive strength and athletic performance boosting effects than a zinc and magnesium supplement alone. The vitamin B6 is also a very important factor as it helps boost immunity and general health and well-being in the process.
What can you stack with it?
ZMA is a great supplement when used individually, although it can also be stacked with other supplements in the process. Some people for example, will stack ZMA with GABA right before bed. Tribulus is a potent testosterone booster, so combining it with ZMA, which also provides T-boosting effects, is a great way of really helping to ramp up your natural testosterone levels. For athletic purposes, some people stack it with creatine monohydrate and for health purposes, stacking it with glutamine is very beneficial, as glutamine has also been found to increase the immune system.
ZMA Ingredients
Per 3 Capsules 
Medicinal Ingredients (per 3 capsules): Zinc (Zinc monomethionine, Zinc aspartate) .......................... 30 Milligrams
Magnesium (Magnesium aspartate) ..................................................................................................... 450 Milligrams
Vitamin B6 (Pyridoxine hydrochloride) ................................................................................................. 10.5 Milligrams
Non-Medicinal Ingredients: Maltodextrin, Gelatin.
Potential side effects
As with all supplements, before using any new product you first speak to your doctor and let them know what you plan on using. Whilst ZMA supplements are considered to be amongst some of the safest in the world, some users have still reported mild side effects, including:
Slight numbness and tingling
Unusual dreams
Loud snoring
Increased hair growth
Known Adverse Reactions: Some people may experience diarrhoea.
Warnings
Caution: Not intended for children, pregnant, or breastfeeding women. Consult a healthcare practitioner prior to use. Consult a healthcare practitioner prior to use if you have health conditions. Store in a cool dry place away from children. Do not use if seal is broken.
Allergen warnings
Allergy Statement: This product is made in a facility that handles milk products, gluten, shellfish, soy, peanuts and other tree nuts.
Disclaimer: The above description does not constitute medical advice and is for informational purposes only and has not been evaluated by Health Canada, CFIA, or FDA. Please consult a properly licensed medical professional before consuming nutritional supplements. This product is not intended to treat, diagnose or cure any disease.