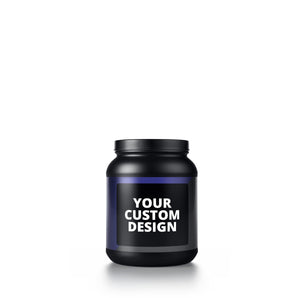 Pre-Workout MAX is an advanced pre-workout supplement that contains full dosages of scientifically proven ingredients of the highest quality, designed to provide energy, focus, power, endurance, and more.
Medicinal Ingredients (per 1 scoop):
Caffeine (1,3,7-Trimethylxanthine) .......................... 200 Milligrams
Beta-Alanine (3-Aminopropanoic acid) .......................... 3000 mg
Creatine monohydrate (N-(Aminoiminomethyl)-N-methylglycine monohydrate) .......................... 5000 mg
L-arginine alpha-ketoglutarate (l-arginine 2700 mg) .......................... 5000 mg
Citruline malate (l -citrulline 3300 mg) .......................... 6000 mg
Black pepper (Piper nigrum, Fruit) .......................... 14 mg (95 Percent Piperine, 4 : 1, QCE 56 mg)
Non-Medicinal Ingredients: Citric acid, Natural and Artificial Flavouring, Sucralose, Silicon Dioxide, FD&C Blue No. 1 (Blue Raspberry), FD&C Red No. 40 (Fruit Punch), FD&C Yellow No. 6 (Orange).

Natural Versions
Non-Medicinal Ingredients: Natural Flavouring, Stevia, Silicon Dioxide, FD&C Blue No. 1 (Blue Raspberry), FD&C Red No. 40 (Fruit Punch), FD&C Yellow No. 6 (Orange).
Recommended Use
Workout supplement. Athletic support. Helps increase physical performance during intensive exercise. Helps (temporarily) to relieve fatigue, to promote endurance, and to enhance motor performance. Increases [body/muscle/lean] [mass/size] when used in conjunction with a resistance training regimen. Improves [strength/power/performance] in repetitive bouts of brief, highly-intense physical activity (e.g. sprints, jumping, resistance training) (by increasing [muscle/intramuscular] [creatine/phosphocreatine/energy] levels). Source of (an) amino acid(s) involved in muscle protein synthesis.
Due to the high content of ingredients and their natural tendency to clump, Pre-Workout MAX must be kept out of humidity and the lid must be closed immediately after use and securely tightened.
Duration of Use
Use for a minimum of 4 weeks. Consult a health care practitioner for use beyond 12 weeks, or for use beyond 6 weeks if you suffer from a cardiovascular disease.
Dosage
Health Canada Recommended Dose: Adults: 1 Scoop(s) 1 time(s) per day. Mix product well in 1-2 cups of liquid (water, juice, etc.) immediately before consumption. Store in a cool, dry place.
Cautions and Warnings
Ensure to drink enough fluid before, during, and after exercise. Consult a health care practitioner prior to use if you are pregnant or breastfeeding, taking lithium, have high blood pressure, glaucoma, and/or detrusor instability (overactive bladder syndrome), if you have a renal or kidney disorder, if you are following a low protein diet, if you are taking medication for cardiovascular diseases, erectile dysfunction, and/or blood thinners, or if you are taking any other medications or natural health products as black pepper/piperine may alter their effectiveness or if you suffer from a cardiovascular disease and are attempting an increase in physical activity. Consumption with natural health products (e.g. bitter orange extract, synephrine, octopamine, ephedra) or other drugs (e.g. ephedrine) which increase blood pressure or other caffeine-containing products (e.g. medications, coffee, tea, colas, cocoa, guarana, maté) is not recommended. This product is not intended as a substitute for sleep. May result in weight gain. Do not use if you have had a heart attack/myocardial infarction. Hypersensitivity/allergy is known to occur, in which case, discontinue use. Some people may experience gastrointestinal discomfort (such as diarrhea). May cause a flushing, tingling and/or prickling sensation of the skin, in which case, reduce the dose. Caffeine has been shown to reduce blood flow to the heart muscle during exercise which might lead to cardiovascular complications such as chest pain, and irregular heartbeat even in healthy individuals. If those symptoms occur discontinue use and consult a health care practitioner.
Warnings
Caution: Not intended for children, pregnant, or breastfeeding women. Consult a healthcare practitioner prior to use. Consult a healthcare practitioner prior to use if you have health conditions. Store in a cool dry place away from children. Do not use if seal is broken.
Allergen warnings
Allergy Statement: This product is made in a facility that handles milk products, gluten, shellfish, soy, peanuts and other tree nuts.
Disclaimer: The above description does not constitute medical advice and is for informational purposes only and has not been evaluated by Health Canada, CFIA, or FDA. Please consult a properly licensed medical professional before consuming nutritional supplements. This product is not intended to treat, diagnose or cure any disease.