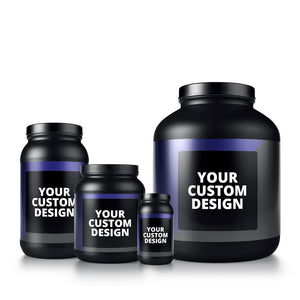 Pricing Chart

Size
MSRP
96 units
244 units
500 units

Beef Protein Isolate

1 lbs
29.99
$14.40
$12.80
$11.20
2 lbs
49.99
$22.50
$20.00
$17.50
5 lbs
99.99
$45.00
$40.00
$35.00
*Orders 244+ units, please contact sales@synergyprivatelabel.com
Price Includes: 
Product
Packaging (hard container included, for mylar bags, click here)
Label design (up to 3 revisions - additional revisions $50/hour)
Label printing
Labour
Price Does Not Include: 
Product Description
Beef Protein Isolate is incredibly pure, and is enriched with amino acids. Following a workout, when muscle protein stores and glycogen stores are depleted, beef protein isolate can be rapidly absorbed to help provide the body with exactly what it needs.

Label Content
Below is a list of all the content legally required to be on the label.
Product Claims / Callouts
 

29.4g Protein

115 Calories

<1g Fat

<1g Sugar

cGMP Certified

Made in Canada

Recommended Use Statement

Recommended use: 

Workout supplement.

Athletic support.

Source of protein for the maintenance of good health.

Source of protein which helps build and repair body tissues.

Source of amino acids involved in muscle protein synthesis.

Assists in the building of lean muscle [tissue/ mass] when combined with regular [weight/ resistance] training and a healthy balanced diet.

Directions for Use
Directions for use (Adults)

: 




1 Scoop(s) 1 - 2 time(s) per day.

Cautions & Warnings
Cautions:

 

Consult a healthcare practitioner prior to use if you are pregnant or breastfeeding. This product contains milk by-products/ derivatives.

Medicinal Ingredients (in decreasing order of prominence)

Medicinal ingredient (per scoop):

Beef Protein Isolate........29 g

Non Medicinal Ingredients (in decreasing order of prominence)

Non-medicinal ingredients: None

Allergen Statement

This product is made in a facility that handles milk products, gluten, shellfish, soy, peanuts and other tree nuts.


Safety Claims

 Do not use if safety seal is broken or missing.


Storage Conditions

Store in a cool, dry place. Keep out of reach of children.

Country of Origin

Made in Canada

UPC Code

Note: Synergy Private Label is not responsible for acquiring UPC codes for clients. If you would like to have a UPC code on your product, you will have to source it yourself.


Lot Number / Expiry Date

Note: This information will be stamped on the package upon production and does not have to be on the label design.

Website

Note: Your website (the vendor)

Manufactured for Statement

Manufactured for: 

COMPANY NAME

ADDRESS

CITY PROV

POSTAL

NFT Chart




Note: See product images below. 

Label Design
If you are designing your own label and have any questions, contact info@synergyprivatelabel.com.
Want us to design the label for you? Hire an expert.