Description
Our All-Natural Canadian Whey Protein Isolate (Stevia) is a high quality undenatured protein supplement that provides excellent quality, and a slight cost break from our 100% Premium Isolate.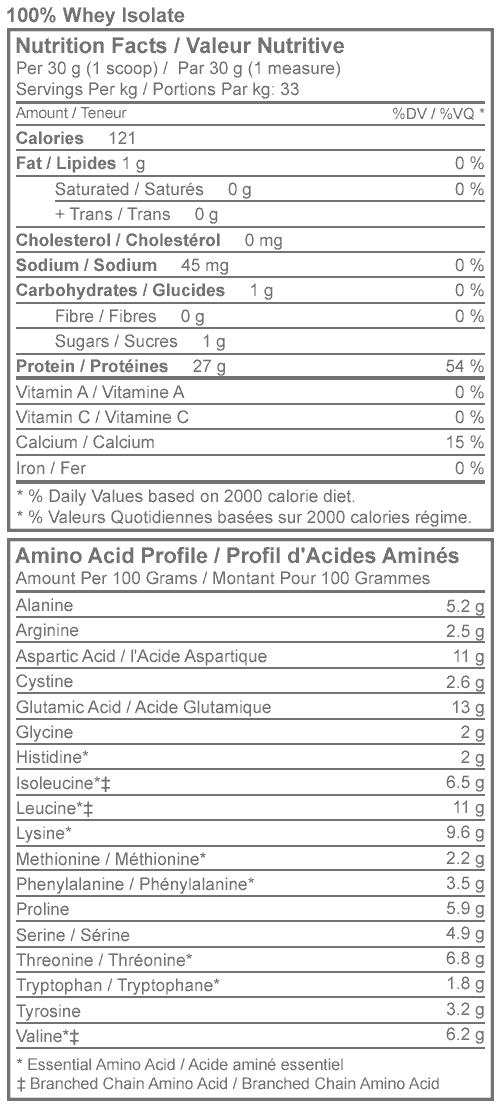 *Nutritional facts based on natural flavour. Other flavours may vary by 4-10%.
100% Whey Protein Isolate Ingredients
Per Scoop
Medicinal Ingredients (per scoop): Whey protein isolate (Whey protein isolate, Bos taurus - Milk) .......................... 27 Grams (90 Percent Whey protein)
Natural Vanilla, Natural Chocolate
Non-Medicinal Ingredients: Natural Flavours, Xantham Gum, Stevia, Non-GMO Sunflower Lecithin.
Unflavoured & Unsweetened
Non-Medicinal Ingredients: Non-GMO Sunflower Lecithin.
Potential side effects
As with all supplements, always consult your doctor before using any new products, and discontinue usage if you experience any adverse side effects. Pregnant and breastfeeding women are advised to consult their doctors before looking into using this supplement. Though natural and very safe, some users have experienced the following side effects when using whey protein isolate:
Diarrhea
Stomach bloating
Gas
Flatulence
Mild nausea
Constipation
Dizzy spells
Cautions and Warnings
Ensure to drink enough fluid before, during, and after exercise. If you are pregnant or breastfeeding, consult a healthcare practitioner before using this product. This product contains milk by-products/derivatives.
Allergen warnings
All Flavours Contain: Milk.
Chocolate Peanut Butter Flavour Contains: Peanuts.
Allergy Statement: This product is made in a facility that handles milk products, gluten, shellfish, soy, peanuts and other tree nuts.
This product may contain milk, gluten, shellfish, soy, peanuts and other tree nuts.
Payment & Security
Your payment information is processed securely. We do not store credit card details nor have access to your credit card information.