Description
 All natural grass feed New Zealand whey protein isolate with stevia, is considered one of the absolute best undenatured whey protein supplements in the entire world, and it all comes down to the fact that the cows that produce the milk responsible for the whey, are so healthy and well looked after. Whey protein comes from milk, and is a by-product left behind when milk separates into cheese. When it separates, you get solid curds, and a liquid known as whey, which contains the whey protein. However, most cows are injected with hormones and are fed with cheap grains that are littered with chemicals, fertilizers, and pesticides, meaning that the milk they produce is not as healthy. With New Zealand grass fed cow's milk however, the cows graze on nothing but pure grass, they roam freely, and they aren't injected with drugs and hormones, meaning that they produce extremely healthy milk. Whereas some proteins are sweetened with chemicals and artificial sweeteners, this protein is sweetened with stevia, which is an all-natural, plant-based sweetener.
Health Canada Recommended Dose (powder): Adults: 1 Scoop(s) 1 time(s) per day. Mix product well in 1-2 cups of liquid (water, juice, etc.) immediately before consumption. Store in a cool, dry place.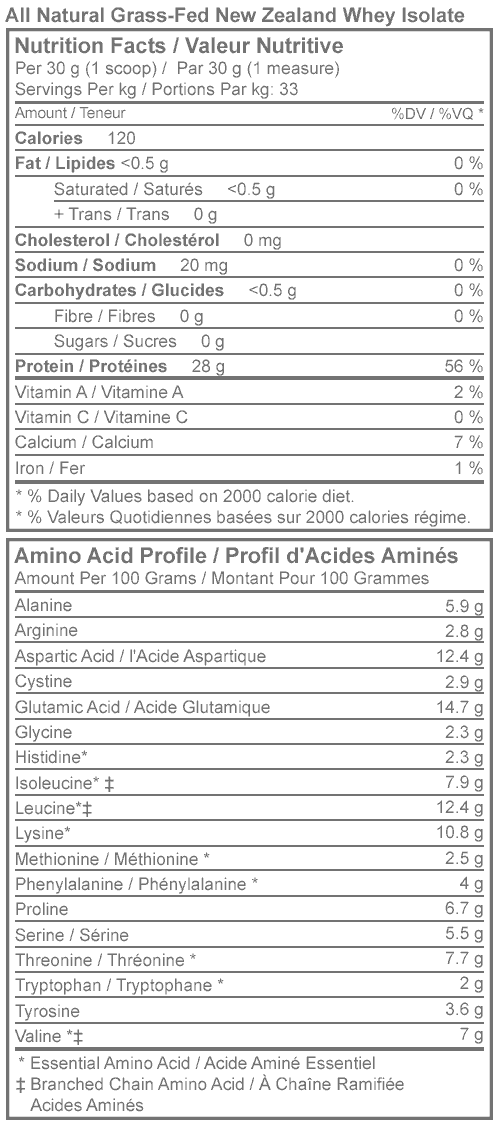 *Nutritional facts based on natural flavour. Other flavours may vary by 4-10%.
All Natural Grass Fed New Zealand Whey Protein Isolate Ingredients
Per Scoop
Medicinal Ingredients (per scoop): Whey Protein Isolate (Whey protein isolate, Bos taurus - Milk) .......................... 28 Grams (94 Percent Whey protein)
Mint Chocolate Chip, Vanilla
Non-Medicinal Ingredients: Natural Flavours, Xantham Gum, Stevia, Non-GMO Sunflower Lecithin.
Chocolate Milkshake, Original Chocolate
Non-Medicinal Ingredients: Cocoa, Natural Flavours, Xantham Gum, Stevia, Non-GMO Sunflower Lecithin.
Potential side effects
All natural New Zealand grass fed whey protein isolate with stevia is considered one of the healthiest supplements in the world, due to the fine quality ingredients, but even so, you should still speak to your doctor before use and should discontinue usage if you experience any adverse side effects. Pregnant and breastfeeding women should not use the supplement to be on the safe side. Some users have reported mild side effects, including:
Stomach cramps
Bloating
Gas and flatulence
Frequent urination
Constipation
Cautions and Warnings
Ensure to drink enough fluid before, during, and after exercise. If you are pregnant or breastfeeding, consult a healthcare practitioner before using this product. This product contains milk by-products/derivatives.
Allergen warnings
Contains: Milk.
Allergy Statement: This product is made in a facility that handles milk products, gluten, shellfish, soy, peanuts and other tree nuts.
This product may contain milk, gluten, shellfish, soy, peanuts and other tree nuts.
Payment & Security
Your payment information is processed securely. We do not store credit card details nor have access to your credit card information.