Supplements
Supplements
We stock one of the most extensive list of supplements in the world, covering every major type of supplement needed for sports nutrition products. If you are looking to sell supplements in the raw, or compounded, we have you covered. You can combine different ingredients from our supplement library to create exactly what you need.
Custom Formulations
Custom formulations is where we really excel when compared to our competitors. We have the expertise to evaluate your formulation and let you know what problems you might have, what interactions you might have that are undesirable. We can also tell you if you are spot on where you need to be. This kind of expertise is invaluable when dealing with performance products that are also judged on taste as well, bad performing products or bad tasting products just do not sell.
Flavors
All of our supplements, both the custom formulations and the off the shelf formulations, can be flavored from our extensive flavor library.  You can chose to use one of our off the shelf flavors, or we can work together to create custom flavors for your need or brand. Our manufacturing flexibility can become one of your biggest assets in this competitive market.
Our Whey Protein Concentrate is our most cost effective, affordable protein that delivers the high quality protein you need without the heavy price tag of higher grade isolates. Read the whey protein concentrate Canadian nutritional information.
Third Party Tested
cGMP Certified
Made in Canada
100% Recyclable packaging
Amazing Value
Great Taste
Superior Mixability
Contents
What is Whey Protein Concentrate
Whey Concentrate is a basic, inexpensive whey protein supplement created as a byproduct of dairy and may contain lactose. This formula although based on economy still delivers a high quality, great tasting undenatured protein that mixes easily. This protein may be used by anyone from beginners to elite athletes, it just does not boast the same bioavailability rate as Premium Whey Blend or Whey Protein Isolate. Whey Protein Concentrate is well suited to be used post workout or as a meal replacement to supplement for meals throughout the day. It can be blended in the blender with fruit and ice, mixed in a shaker bottle, or stirred into your favourite beverage.
How to use Whey Protein Concentrate
Whey Protein Concentrate is best consumed at a ratio of 1 rounded scoop of powder with 200-250ml (depending on desired consistency) of cold water, milk, skim milk or your favourite beverage. The amount of serving depends on daily protein intake needs of the individual.
Recommended serving guidelines
Men under 200lbs bodyweight: 1 rounded scoop
Men over 200lbs bodyweight: 2 rounded scoops
Women under 175lbs bodyweight: 1 rounded scoop
Women over 175lbs bodyweight: 1.5 rounded scoops
Benefits
Muscle building
Protein is needed by the body in abundant amounts to feed the muscle and induce muscle growth. Protein will break down into its smaller parts (amino acids) and act on the body to repair, replenish, and sustain muscle. Without protein the body cannot function and grow adequately. Whey Protein Concentrate will encourage muscle growth after workouts and provide the nutrients to build muscle and burn body fat.
Fat loss
Whey protein tends to be naturally low in calories and low in cholesterol. This makes it suitable for a healthy meal while dieting because it is a source of lean protein that will fuel workouts and maintain muscle tissue. Whey Protein Concentrate alone does not cause direct fat loss but using a diet combination with whey protein will allow for a filling low calorie meal that tastes good.
General health
Our Whey Concentrate can be taken by any individual looking to up there ratio of protein in their diet for an affordable price. You do not need to weight train or undergo physical exercise to reap the benefits of a high protein meal. People who have a hard time consuming meats (vegetarians, etc) , need a quick healthy meal on the go, or have muscle wasting can benefit from protein supplementation. Whey Concentrates also tend to be higher in bioactive compounds that can help promote a healthy immune system.
Always consult with a physician about anything related to your health and nutrition.
Whey Protein Concentrate stack
Whey Protein Concentrate can be stacked with just about nutritional supplements and vitamin products available, depending on the goals you are looking to achieve. One of the most popular supplement stacks with whey protein include Creapure creatine monohydrate, BCAA supplement and L-Glutamine, along with Super-Men Multivitamin. These supplements are great in a muscle building recovery shake. You can even also add fresh or frozen fruits for a healthy smoothie and/or snack.
Actual Test Results
Click the following link to view an actual test result: Test Results for Whey Concentrate Unflavoured Lot Number 170926199-WCUN
Or download our app and scan this QR code:
Nutrition Facts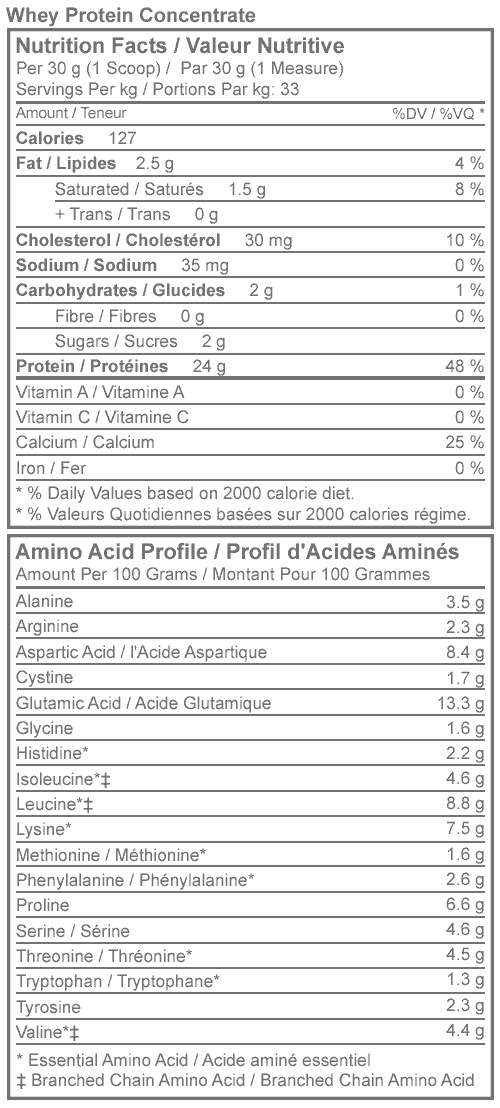 *Nutritional facts based on natural flavour. Other flavours may vary by 4-10%.
Ingredients
Per Scoop
Medicinal Ingredients (per scoop): Whey protein concentrate (Whey protein concentrate, Bos taurus - Milk) .......................... 24 Grams (80 Percent Whey protein)
Banana Cream Pie, Birthday Cake, Canadian Maple, Cappuccino, Cinnabun, Cookies & Cream, Eggnog, Mint Chocolate Chip, Salted Caramel, Strawberry, Strawberry Banana, Strawberry Milkshake, Vanilla
Non-Medicinal Ingredients: Natural and Artificial Flavours, Xanthan Gum, Sucralose, Non-GMO Sunflower Lecithin.
Original Chocolate
Non-Medicinal Ingredients: Natural and Artificial Flavours, Xanthan Gum, Sucralose, Non-GMO Sunflower Lecithin.
Chocolate Milkshake
Non-Medicinal Ingredients: Cocoa, Natural and Artificial Flavours, Xanthan Gum, Sucralose, Non-GMO Sunflower Lecithin.
Chocolate Peanut Butter
Non-Medicinal Ingredients: Cocoa, Peanut Flour, Natural and Artificial Flavours, Xanthan Gum, Sucralose, Non-GMO Sunflower Lecithin.
Unflavoured
Non-Medicinal Ingredients: Non-GMO Sunflower Lecithin.
Warnings
Ensure to drink enough fluid before, during, and after exercise. If you are pregnant or breastfeeding, consult a healthcare practitioner before using this product. This product contains milk by-products/derivatives.
Allergen warnings
All Flavours Contain: Milk.
Chocolate Peanut Butter Flavour Contains: Peanuts.
Allergy Statement: This product is made in a facility that handles milk products, gluten, shellfish, soy, peanuts and other tree nuts.
This product may contain gluten, shellfish, soy, peanuts and other tree nuts.
Disclaimer: The above description does not constitute medical advice and is for informational purposes only and has not been evaluated by Health Canada, CFIA, or FDA. Please consult a properly licensed medical professional before consuming nutritional supplements. This product is not intended to treat, diagnose or cure any disease.
Whew!
If you have made it down this far, you understand how deep our library of supplement ingredients on hand goes and how it can help propel your business. If you see something you need that is not on our extensive list, let us know, we can get it for you.